The weather has been throwing my clothing choices for a loop. One day I'm comfortable in shorts and sandals and the next day weather.com tells me it's going to pour (but of course I end up in galoshes with clear skies from 10am on). While it's officially spring, it's not quite time to break out the sundresses and tank tops, but winter wear is too heavy. Here are some tips for dressing during the transition:
1. Layer, layer, layer: If you haven't learned to layer yet then you can't consider yourself a San Franciscan. For this transitional period try lightweight layering: summer scarves, tissues tees, cardigans, denim and leather jackets. Photos:WhoWhatWear
2. Mix lights and darks: At first I was a little thrown off by all the mixing and matching of neutrals and dark tones but now I love it. It's the perfect feel for winter meets spring. Play around with dark tights and boots with a creme colored dress or vice versa. A light palette for the foundation and darker accessories works well. Photos: WhoWhatWear and ShopBop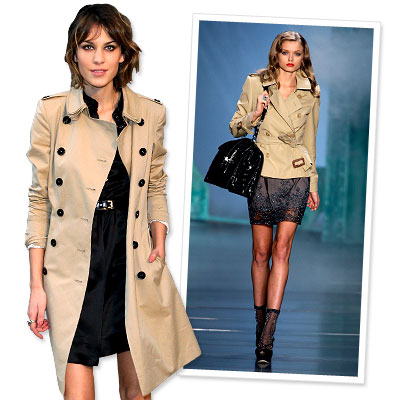 3. Trench it: Trench Coats are not only totally on trend, they are also the perfect outerwear for San Francisco. Buy one you love because they are timeless here in our nearly seasonless city. Wear it in the winter with layers of scarves and sweaters or on a cool summer night over a cute dress with the sleeves rolled up. For this transitional period I especially like the look of a neutral trench with a dark dress. Photo: Instyle.com
4. Light colored tights: Stay warm but spring appropriate with a pair of light colored tights. Try nude or taupe fishnets or lace options to add fun texture. I love the look of them with sandals and shorts. Think outside the box! Photo: J.Crew fishnet tights.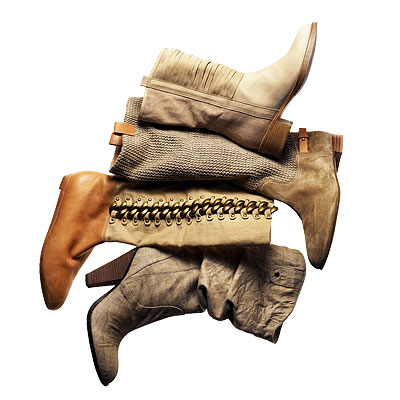 5. Summer boots: Black or dark colored boots always feel very winter to me (plus I'm so sick of mine after wearing them 3+times a week for the past 6 months). Light colored boots work well for spring, especially if they are close to your skin tone. Wear them with a skirt and your light colored tights or go bare if it's warm enough. The neutral color and a low heel will keep you safely out of hooker territory and put you right on trend.  Photo:InStyle.com