This morning I woke up to another cold, foggy day and decided it's time to take a break from the Paris posts to share some of my go-to San Francisco summer fashion tips. We've all learned by now that fall clothes are year-round staples in our city by the bay, but I refuse to wear wool for 12 months straight. I like to pretend we're having summery weather, to pretend like we actually have seasons. My main strategy is to wear light colored clothes and lots of layers. It really depresses me to wear a wool coat in July so instead I've been wearing cotton cardigans, lightweight jackets, and thin scarves.

summer layers by elisabethcarr featuring TopShop
White jeans have become one of my favorite summer clothing items. Every time I put them on I feel like I'm in Miami for a few minutes. Check out this Instyle Magazine slide show to find the best fit for your body.
Yes, they get dirty easily but I've found stains come out very easily with a little bleach or Oxyclean.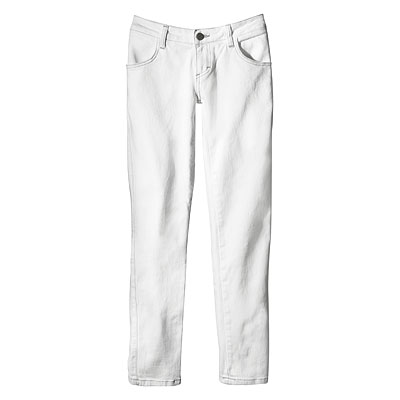 My final SF summer fashion tip is to grin and bear it until the sun comes out. I love skirts and dresses and I've learned to tolerate a little chill on my bare legs while walking to the Bart station by reminding myself that the sun will come out by lunchtime.